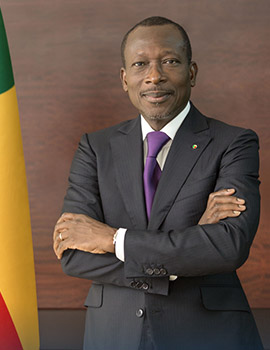 Message of the President
My Government's Action Programme for 2016-2021 delivers a strong message of hope for the future. Benin is a model of democracy and stability, with all the necessary assets to become a center of inclusive and sustainable development, economic dynamism and social progress. This potential, left for too long untapped, is ready to be revealed.
Benin's strategic location in West Africa, and its human capital, political stability, potential and heritage, are all indisputable advantages.It is time to promote these advantages and exploit them to their fullest.
That is what the 'Revealing Benin' programme is all about. It aims to create an environment that embraces the talent and dynamism of the Beninese people in order to revive our country's development on along-term basis.
The'Revealing Benin' programme acts simultaneously in institutional,economic and social areas. Among other things, it comprises 45 flagship projects in the economy's key sectors. It will be implemented with the support of various private-sector partners. The programme involves a scale of investment never before seen in the country, and is designed to boost employment, improve public well-being, create wealth and raise Benin's international profile.
It will mark a 'New Momentum' for all Beninese citizens, for all sectors of the economy, and for relations between our country and its partners.
Country Profile
COUNTRY NAME
REPUBLIC OF BENIN
POLITICAL CAPITAL

PORTO NOVO
ECONOMIC CAPITAL

COTONOU (THE MOST DEVELOPED CITY IN BENIN)
HISTORICAL CAPITAL

ABOMEY
AREA

ABOUT 114,763K㎡ (ONE-THIRD OF THE SIZE OF JAPAN)
POPULATION
10 008 749 inh. (2013)
11 496 140 inh. (2018)
TEMPERATURE

24℃~35℃ (75°F~95°F)
HISTORY

AUGUST 1st, 1960 REPUBLIC OF DAHOMEY BECAME INDEPENDENT
NOVEMBER, 1975 PEOPLE'S REPUBLIC OF BENIN
FEBRUARY, 1990 REPUBLIC OF BENIN
NATIONAL MINORITIES

FON, YORUBA, ADJA, BARIBA, SOMBA, ETC…
LANGUAGE

FON, YORUBA, ADJA, BARIBA, SOMBA, ETC…
FRENCH IS THE OFFICIAL LANGUAGE
RELIGION

CHRISTIANITY 48.5%, ISLAM 27.7%, VOODOO 11.6%, OTHERS 5.8%
MAIN INDUSTRY

SERVICE INDUSTRY (HARBOUR PORT SERVICE) FISHING INDUSTRY
AGRICULTURE (COTTON, PALM OIL, SHEA BUTTER, PINEAPPLE, ETC…)
GDP

APPROXIMATELY 6.6 BILLION US DOLLARS
CURRENCY

1EURO = 655 C.F.A
TIME ZONE

GMT+1
INVESTMENT AND ECONOMIC SITUATION

・BENIN AGENCY FOR TRADE PROMOTION
・Agence Beninoise de Promotion des Echanges Commerciaux
See more photos in our gallery